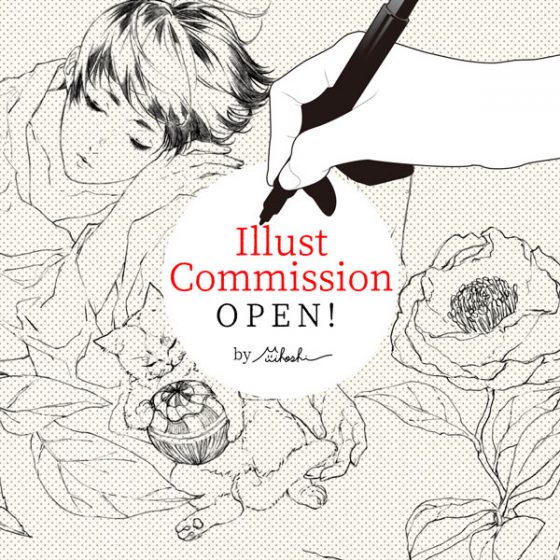 What is "Commission"?
It means requesting for an illustration for a fee.
"I want you to draw this character and this kind of illustration!"
I respond to such requests(◍•ᴗ•◍)
+‥‥‥‥‥‥‥‥‥‥‥‥‥‥‥+
 Commission Process
+‥‥‥‥‥‥‥‥‥‥‥‥‥‥‥+
1. Please fill in the necessary information on the [Order Form] and send it.
2. [Order Form] After checking the form, I will send a reply by e-mail within a few days.
3. After both parties confirm the details of the commission and agree on the commission terms, we can start the deal! Communication will be held by e-mail from start to finish.
+‥‥‥‥‥‥‥‥‥‥‥‥‥‥‥+
 To Note
+‥‥‥‥‥‥‥‥‥‥‥‥‥‥‥+
● I don't accept commission requests from companies. Click here for inquiries for such job offers.
●I don't accept fan art commission.
※Characters for which the client has rights to are accepted (for ex. original characters).
●I don't accept commission of real people or portraits.
●For adult / nsfw commissions, nsfw parts will be censored.
●Copyright belongs to "Mihoshi Sato".
●The right to use the artwork remains with the client. It is possible to use the commission for commercial purposes within the range that you told me when you requested for the commission.
●The delivery date for the commissioned illustration may change / isn't definite. Please request for a commission after acknowledging this in advance.
●After the delivery of the commission, we might show the commission work you requested on SNS. (※Please be assured that your name will be hidden.)
●Commission rates are subject to change without notice.
+‥‥‥‥‥‥‥‥‥‥‥‥‥‥‥+
 How to Commission order
+‥‥‥‥‥‥‥‥‥‥‥‥‥‥‥+
Detailed commission rates and order forms can be found here.
I look forward to your request♪